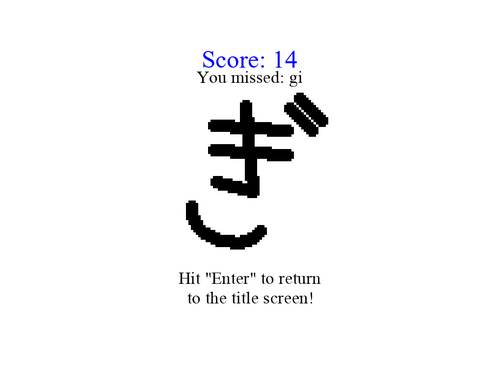 In this major update to Nihongo, a couple of features were added that I hope will greatly improve the gameplay and learning experience that I hope this game provides, as well as some minor tweaks to some of the characters. Both of the added features were made as per a very helpful suggestion from user "LazyLazer" that they brought up in a comment on the game, and are as follows:
1. A Game Over screen has been added (shown) that displays your score, the spelling of the character you missed, and the character itself. You are immediately directed to this screen when you miss a character, and from there you can go back to the Title screen.
2. From the Title screen, you can now type where you want to go: to either of the game modes or to either of the kana charts.
Lastly, I noticed some of the characters' origin points were in the center of the character, rather than at the bottom, so I fixed that; all characters should now hit the bottom of the screen when their bottom touches it, rather than some characters getting all the way to their middle.